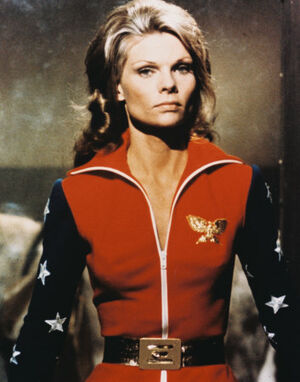 Wonder Woman is a 1974 television film loosely based on the DC Comics character of the same name, resembling the Wonder Woman of the "I Ching period". directed by Vincent McEveety and starring Cathy Lee Crosby. It was Wonder Woman's first live-action television appearance. The film was a pilot for an intended television series, being considered by ABC.
Plot
This version of Wonder Woman (Cathy Lee Crosby) did not wear the comic book costume including the trademark tiara and her "secret identity" of Diana Prince was not all that secret. The film follows Wonder Woman, assistant to government agent Steve Trevor (Kaz Garas) as she pursues a villain named Abner Smith (Ricardo Montalban) who has stolen a set of code books containing classified information about U.S. government field agents.[1]
Cast
Production History and Reception
The pilot aired originally on March 12, 1974[2] and was repeated on August 21 of that year.[3] Ratings were described as "respectable but not exactly wondrous."[4] ABC did not pick up the pilot, although Crosby would later claim she was offered the series that was eventually given to Lynda Carter.[5] An ABC spokesperson would later acknowledge that the decision to update the character was a mistake[4] and the pilot itself has been labeled one of the "hundred dumbest events in television."[1]
References
↑ 1.0 1.1 What Were They Thinking?: The 100 Dumbest Events in Television by David Hofstede and Tom Bergeron (contributor), Back Stage Books, 2004, pages 31-33
↑ TV Staff Previews, Uniontown (PA) Morning Herlad, March 12, 1974,
↑ TV Key Best Bets, Wisconsin State Journal, August, 21, 1974.
↑ Cathy Crosby turns down 'Wonder Woman' offer, Tom Joby, Associated Press, May 12, 1980.
Ad blocker interference detected!
Wikia is a free-to-use site that makes money from advertising. We have a modified experience for viewers using ad blockers

Wikia is not accessible if you've made further modifications. Remove the custom ad blocker rule(s) and the page will load as expected.