Wonder Woman
Directed by
Vincent McEveety
Written by
John D. F. Black
Released
March 12, 1974
Duration
75 mins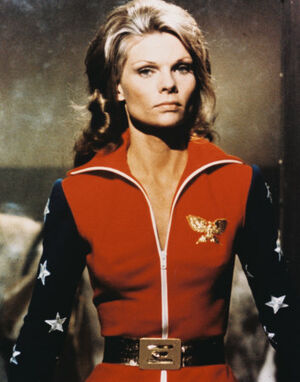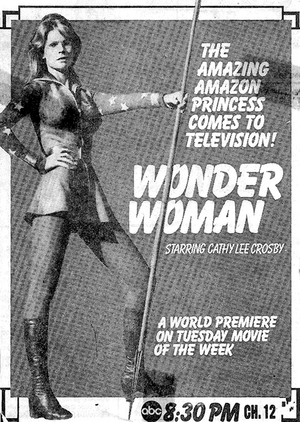 Wonder Woman is a 1974 television film loosely based on the DC Comics character of the same name. It was Wonder Woman's first live-action television appearance. The TV movie event aired as a pilot for an intended television series, being considered by ABC.
Plot
The film follows Wonder Woman, assistant to government agent Steve Trevor (Kaz Garas) as she pursues a villain named Abner Smith (Ricardo Montalban) who has stolen a set of code books containing classified information about U.S. government field agents.[1]
Cast
Cathy Lee Crosby as Diana Prince/Wonder Woman
Kaz Garas as Steve Trevor
Charlene Holt as Hippolyta
Ricardo Montalban as Abner Smith
Richard X. Slattery as Colonel Henkins
Andrew Prine as George Calvin
Anitra Ford as Ahnjayla
Beverly Gill as Dia
Sandy Gaviola as Ting
Robert Porter as Joe
Jordan Rhodes as Bob
Donna Garrett as Cass
Roberta Brahm as Zoe
Thom Carney as Fred
Ed McCready as Wesley
Production and Reception
The pilot aired originally on March 12, 1974[2] and was repeated on August 21 of that year.[3] Ratings were described as "respectable but not exactly wondrous."[4] ABC did not pick up the pilot, although Crosby would later claim she was offered the series that was eventually given to Lynda Carter.[5] An ABC spokesperson would later acknowledge that the decision to update the character was a mistake[4] and the pilot itself has been labeled one of the "hundred dumbest events in television."[1]
References
↑ 1.0 1.1 What Were They Thinking?: The 100 Dumbest Events in Television by David Hofstede and Tom Bergeron (contributor), Back Stage Books, 2004, pages 31-33
↑ TV Staff Previews, Uniontown (PA) Morning Herlad, March 12, 1974,
↑ TV Key Best Bets, Wisconsin State Journal, August, 21, 1974.
↑ Cathy Crosby turns down 'Wonder Woman' offer, Tom Joby, Associated Press, May 12, 1980.