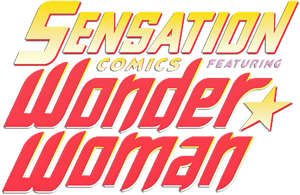 Sensation Comics Featuring Wonder Woman is a digital-first comic book title launched in 2015 featuring Wonder Woman.
The title is derived from Wonder Woman's first starring comic book title from the 1940s, Sensation Comics.
Overview
Diana Prince: Amazon warrior, ambassador to Man's world, or champion of women in need? All of the above! This digital-first anthology series will bring some of comics' greatest talents to Themyscira, and give them leave to explore Diana, her world – and ours!
Issues
Links
Ad blocker interference detected!
Wikia is a free-to-use site that makes money from advertising. We have a modified experience for viewers using ad blockers

Wikia is not accessible if you've made further modifications. Remove the custom ad blocker rule(s) and the page will load as expected.