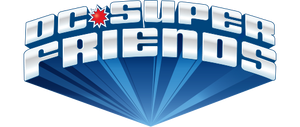 DC Super Friends is a franchise initiative consisting of comic books, animated shorts, and a line of toys produced by Fisher-Price. Modeled after the 1970s/1980s Super Friends animated series, it features Wonder Woman, Superman, Batman, and other DC Comics heroes operating from the Hall of Justice.
Toys
The original toy line launched in 2008 and consisted of figures for Wonder Woman and Cheetah, as well as Wonder Woman's Invisible Plane. A line of Fisher-Price Little People released under the DC Super Friends banner also included Wonder Woman and her Invisible Plane targeted to younger ages.
Comic Book
From 2008 to 2010, DC Comics published DC Super Friends as a comic book title for a total of 29 issues.
Animation
In 2010, Answer Studio produced an animated short called The Joker's Playhouse which was featured on a DVD packaged with some of the toys. Running in at 17 minutes and 27 seconds, Wonder Woman only appears in the opening title sequence. Fisher-Price hosts the entire episode on their YouTube channel. [1]
In 2015, a series of shorts animated in an updated style by Titmouse Inc were published on the DC Kids YouTube channel in 15 installments. Wonder Woman appears in the series voiced by Rachel MacFarlane with Blaze Berdahl as Cheetah. [2]
Ad blocker interference detected!
Wikia is a free-to-use site that makes money from advertising. We have a modified experience for viewers using ad blockers

Wikia is not accessible if you've made further modifications. Remove the custom ad blocker rule(s) and the page will load as expected.