Body Doubles
Real name
Bonny Hoffman, Carmen Leno
Debut
Resurrection Man #1 (March 1996)
Created by
Andy Lanning, Dan Abnett, Jackson Guice
Affiliations
Requiem Inc, Secret Society, Injustice League
Abilities
Master assassins
The Body Doubles are supervillains and contract assassins, enemies of Wonder Woman and the Justice League.
Characters' History
Bonny Hoffman and Carmen Leno are assassins who work for Requiem, Inc., an agency for hired killers. Bonny, daughter of crime lord, wants to prove her worth to her father, while Carmen, a former film actress, hopes to become legitimate and famous. Both women meet and become assassins and use many types of hi-tech weapons, often concealed in, or disguised as, makeup accessories.
Bonny's uncle Nick hires the Body Doubles for their first job, which brings them into conflict with Resurrection Man. The two later work for a beauty-obsessed alien warrior named Mystress, who wants to use the energies of female superheros to rejuvenate her appearance. and for whom the Body Doubles kidnap Argent, Power Girl and Deep Blue. The two also try to kill Catwoman, but they were defeated.
They continue to work for Uncle Nick, murdering assigned victims while pursuing their dreams. The Body Doubles have joined the Secret Society of Super Villains, as well as having aided The Riddler and several other villains in Gotham City.
The Body Doubles later joined up with The Joker, Lex Luthor, and Cheetah III as members of the Injustice League, but are later brought to the Planet Salvation, a distant planet filled with deadly technology used by Amanda Waller as a permanent prison for metahuman and costumed villains, forcing them to behave or die. The crafty duo, however, later escape back to Earth.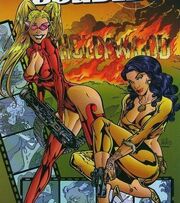 Powers and Abilities
The Body Doubles are master assassins and are expertly trained. They possess hi-tech weaponry, often concealed in, or disguised as, makeup accessories.
Bonny possesses agility, hand-to-hand combat, invulnerability, durability, marksmanship and swordsmanship.
Carmen possesses agility, invulnerability, durability, hand-to-hand combatant, marksmanship, swordsmanship and super strength.